Henry Melville is the owner and Managing Director of QC Engineering in Pandora, Napier. QC Engineering manufacture high-quality sheet metal components. In 2020 Henry signed up for The Icehouse Owner Operator Programme.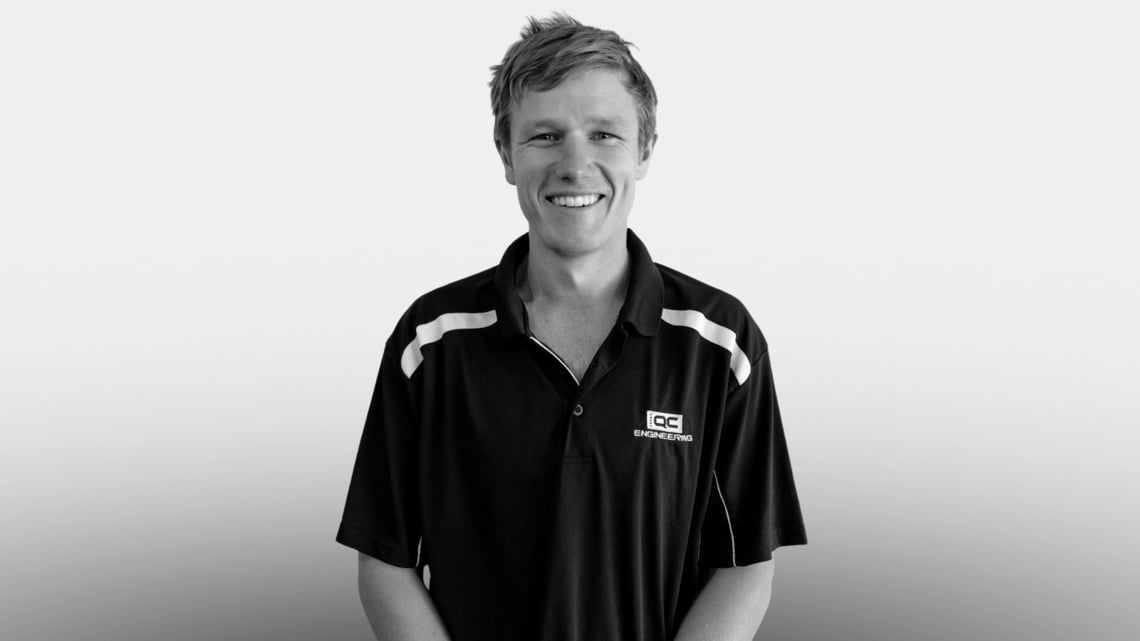 Location: Napier
Business Type:  Engineering
Founded:  Henry's father, Hamish, bought the business in 2005
Number of Employees:  24
Current Business Situation: Impressive year-on-year and post-Covid growth
The Icehouse Business Coach: Owner Operator Programme Alumni
What's your day-to-day role?

I have a management team of four; a production manager, office manager, laser manager and a design and systems manager. I spend most of my day supporting them and our operations staff – helping them through the daily challenges and planning as much as possible. As we're on a growth curve we're constantly reviewing what we do. We can't be stagnant, and things seem to change every day!


How did you arrive in the business?

I took over the business in 2015. I was a civil engineer down in Christchurch. Dad [Hamish Meville, the then-owner] turned up one day and said his health wasn't too flash and there's a great opportunity here if you'd like it. Three weeks later dad passed away.

Until then we'd never really talked about me taking over. I was 24, doing my thing in the South Island and five weeks later I was sitting in the office in a business I didn't know too much about with a staff of ten.

It took a lot of learning for four or five years and I feel I've just caught up! It took me a couple of years to learn the business and how it all runs, and then a year or two to plan and implement changes. It doesn't happen overnight.

We have great staff and a fantastic customer base, and they've supported me since day one. The biggest challenge was learning every inch of the business; how the machines work, how our systems and processes operate, what our customers want to see – and how they want to see it.

What are your current challenges?

We're growing fast and we've invested heavily – with two high-speed turret punches, new press brakes, and a state-of the-art fiber laser cutter. There's just one piece of original machinery from 2017. We've also revamped our systems, such as implementing a new ERP (enterprise resource planning) system.

We're a contractor and a subcontractor, and there's plenty of subcontractors out there, so you need the best equipment to be competitive. That can be challenging in a small place like Hawke's Bay.

Sourcing material is also a challenge. We've never stopped or run out of steel, but we certainly had to work a lot harder for it these days. We used to spend an hour a day procuring steel and now it takes about five to six hours as supply chains are so disrupted, so a lot of management time goes into that.

I'll continue investing in new machinery, bringing some automation into the factory, and giving our staff all they need to upskill.


What did you do with The Icehouse?

I did the Owner Operator Programme in 2020. I'd been approached by Kate [de Lautour, Customer Growth Partner & Operations Manager at The Icehouse] before but said "no" a couple of times. After six years I'd executed some strategies and was just waiting for the right time for me and the business, and I am very glad I signed-up.

Dad did the same programme in 2013 and I found his course files – that was cool – and I also have the certificate he got for completing his OOP. From his notes I could see the challenges that he was going through.

What were your key takeaways?

I did OOP through the pandemic, and because of everything that was going on at the time it took longer than expected but I think probably got even more value from it as a result. I came away feeling more confident in communicating with my team, executing change, and working on a three-year plan.

The biggest thing was getting in a room with other business owners. You discuss all your problems and soon realise that no matter how big or mature a business is, we all have similar challenges. It was a good feeling learning that.

Michaela [Vodanovich, OOP facilitator] is amazing! You're challenged and she points the finger which is great! I was late completing some programme work and got a telling off from Michaela! It was like being back at school, but I loved every minute. I used to really look forward to each session and I highly recommend OOP to anyone. It's more than what I thought it was going to be.


How do you weave those into the business?

I enjoy focusing on the people side of the business – focusing on their strengths and areas of expertise and upskilling them on any weaknesses. I used to take it for granted that everyone could do everyone else's job and didn't really understand why some people aren't as good as others.

Now, thanks to OOP, I communicate as much as possible and get more feedback and input from the management team and the guys in the workshop. You can't grow or manage a business on your own.


Have you worked professionally with any other alumni since doing the programme/workshop?

Not yet but the people on the course were great. You realise you're not alone and everyone is so supportive.

What advice would you give to someone wanting to start a business right now?

Find something you're passionate about and plan, plan, plan, and then execute and review. Reviewing is critical because there's no point in planning and executing if you don't know how the last round went. You must plan and adapt and change no matter how good you are.

Click on the link for more information about QC Engineering and its range of products and services.