Carey Penn is the Owner and Director of
Electrical & Automation Solutions Ltd
and
a
Owner Manager Programme alumni.
This Kiwi Business Story is based on a Podcast from May 4, 2021, and all figures quoted are from that time. You can enjoy the complete Podcast
here

.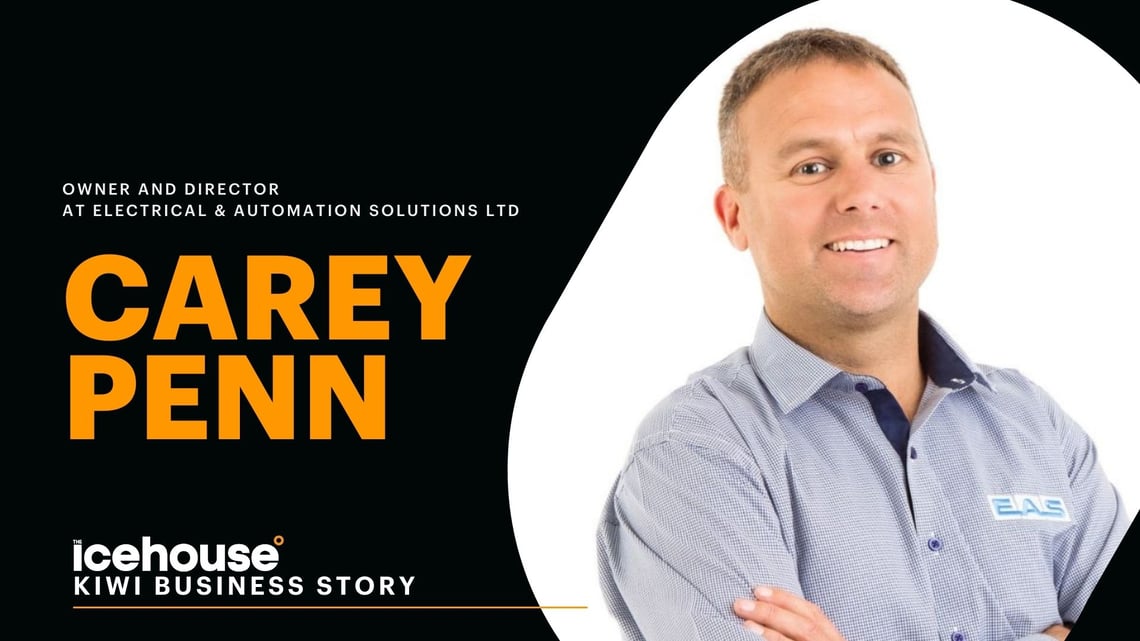 Explain your business to our listeners, and your journey of becoming a business owner?

I am Carey, from Electrical Automation Solutions. We are specialists in industrial electrical contractors. We do full turnkey projects from all sorts of industrial customers, electrical control systems, automation, instrumentation, variable speed drives and preventative maintenance. We also carry out thermal imaging surveys.

We're based in Waikato and a substantial portion of our work comes from the dairy industry. When I set up the business, my plan was to work 30 hours a week and have a cruisy life and spend more time with the family. You could say that things did not go to plan, as from my first job, I was just flat out, and things were just carnage. I did some shift covers to start off with and the business just organically grew, and went from doing 30 hours a week to 60 hours quickly.

Our workload continues to grow organically, through word of mouth. For me, joining the Owner Manager Programme \ was about developing myself as a leader, creating a long-term strategy. Getting back to my core purpose, which was having time off to spend more time with my family.

When did you first hear of The Icehouse and the Owner Manager Programme?

A friend of mine, James Vinson at JT plumbing, Him and I do a little bit of mountain biking together. We were biking through the forest. He was telling me about one of his operations managers and how they were doing on the course. It just sounded like the logical next step for me, everything he was saying sounded like what I needed.

Sum up your Owner Manager Programme experience?

I have just met lots of new people, and it has opened so many networking opportunities. I have now gotten access to just some awesome people. There are just next level people, they genuinely want to help you. It does not matter what section of the business you are working on. There are just people to reach out and connect with.

A real light bulb moment for me was when Chris, one of the presenters, was holding up a candle when she was asking the group to describe what we saw. We had been split into two groups, they were introverted and extroverted people. For me being a practical sort of person that was all about flame, and heat, and those sorts of things. Whereas some of the introverts and some of the creative people were using words such as warmth and spiritual. I just could not believe that somebody could describe a candle being warm and spiritual. That was just a real light bulb moment for me, the way I speak to people and the way people interpretate things differently.

What changes did you implement into your business and your lifestyle, since doing the Owner Manager Programme?

I made lots of changes and they are still just rolling through now. I changed how my day looks. I have moved all the important tasks to the morning when my head is clear, and I am in the groove. I have moved my meetings to the afternoon when we can sit down. We have restructured all our meetings. I have reset my routine, getting up in the morning and doing exercise. It just gets the blood flowing and changed how the whole morning starts. We now have a clear focus on where we want to take the business.

What is currently your biggest challenge?

The biggest challenge for me now is that we are heavily in the dairy industry. We are reliant on the big dairy players. What we are trying to do is break into new-to-business customers. The Icehouse has helped me out with that because it has open doors to people that are already in the industry that I can connect with.

What learnings if any, did you take from others in your group?

There were 25 people in our group, and we've all got different businesses, some are worth hundreds of thousands, and some are hundreds of millions. What was interesting was we were all facing similar problems, and the size of the business did not matter. Being an owner manager can sometimes get quite lonely. Through reaching out to other owner managers it was just awesome, people were more than happy to share their learnings or help.

What is one piece of advice you would tell an owner manager of a small, medium sized business in New Zealand?

One of the things was you needed to rest to go fast. That really resonated with me, you cannot just keep going fast, you will burn out. I am really trying to focus on the moment. Focusing on having the right people on the bus. Enjoy the journey. Do not just look at the destination. Make sure you look back from time to time. Take time to stop, look back and see how far you have come and really celebrate the success with the team because that just really empowers everybody and helps everybody move forward in the right direction.