Neil Callaghan is the owner/manager of Automated Truck Body Solutions in Mount Maunganui. The business provides affordable quality refrigerated and dry freight truck body solutions.

Aaron Harvey is Operations Manager at Rapid Lawn. The Tauranga-based business specialises in landscaping.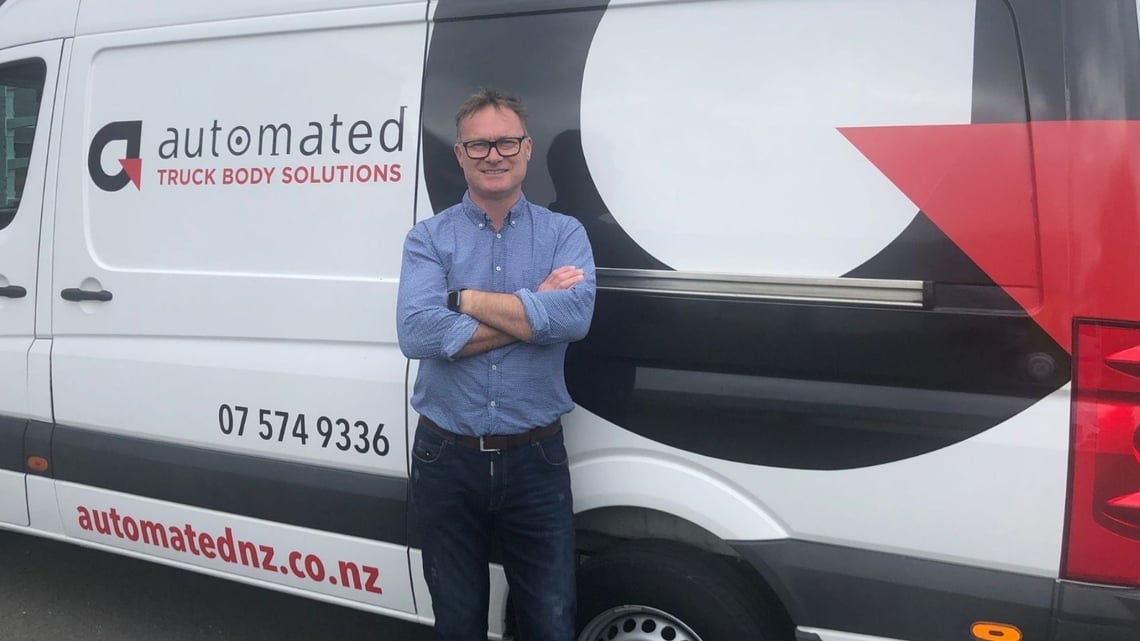 The Business Owner Programme (BOP) is a practical six-month academy for Bay of Plenty business owners. Participants get the opportunity to learn new business skills, network and redesign their businesses for the future.


What motivated you to do BOP?

NC: Like many business owners I'm a tradesman who thought, 'I can do this, I can run a business.' I never went to university, so didn't really know the finer aspects of doing business or building one. I was aware of BOP and some of The Icehouse's fuller programmes as I know people who have gone through those and spoken highly of them. BOP also suited what time I had available, so it wasn't a hard decision to make.

AH: I'd never done a business course before, but Daryl French, our business advisor, knew The Icehouse and recommended the Business Owner Programme. That was in 2020. I have been off the tools for a little while now and most of my day is managing operations, so BOP seemed perfect.
What were your biggest takeaways?

AH: There were so many highlights, but a strong one came through at the very beginning, and that was the importance of spending time working on the business when you are caught up working in it.

Secondly, I enjoyed analysing my strengths and weaknesses as a leader and using that to see what needs to be done to make me more effective in my role as operations manager. Also analysing our competitors' strengths and weaknesses, and how you can differ, was so valuable.

NC: I have a team of three here and, in the next three months, I'll be bringing in additional people which is good news. However, prior to BOP I would often work 20% on the tools, stepping in when I thought I had spare time and the team could do with my help. But you've got to be disciplined as an owner; be aware and self-critical, so you can view the gaps in the business which best need filling.

Previously, sales have been an issue for me. I'd never really given salespeople credit for what they do. Since BOP, I see them in a new light as I have to be in the office to drive the business from a sales perspective.

I have long lead times because the majority of my product comes from Europe, and since COVID, that has been harder to manage, so now I have to be a lot more strategic. In the past I waited for sales to come to me, but now I'm a lot more proactive. The next position I fill will be either an operations manager or a sales person role to keep this process going forward as we get more customers.



How do you integrate BOP learnings into your business?

NC: Jamie Brock (programme facilitator) is a good listener who is also very clear in his talks. He has good experience behind him so when he says something you listen. Jamie taught me how to quickly qualify leads, avoid the tyre kickers and become more efficient. I'd often waste so much time getting a quote from a factory in Europe for a customer in New Zealand, for example. I'd process it here, create a drawing, convert the quote into New Zealand dollars, and then send the pack out to a customer asking if they wanted to go ahead.

We use Xero as our accounting system and since COVID we added Lead Manager to manage all of our sales activity including quotes – something Jamie suggested we should implement during lockdown so I did that straight away, before we even started BOP.

I'm also just about to embark on the digital side. I kicked it down the road a couple of years ago, but didn't give it long enough to really see the benefit. Jamie bought in a couple of very good experts during BOP, who really opened my eyes to the value of digital marketing, so I'm looking forward to seeing that roll out. I have my BOP information in the cloud and it's good to have that to hand and to refer back to when I need to.

AH: I'm probably a little different than the other programme participants because I don't take ownership of the business until later in 2021. There's a certain direction that I would like to go with the business, so addressing how we can do things differently was really useful.

My job is probably more general management at this stage and the staff management side is very important. We have close to 30 staff and I picked up some really good tools around managing staff properly, building morale and the importance of keeping good people.

The sales and marketing advice was really good, particularly around social media. The reality is you really need a specialised person within that industry, because it's an industry in its own right. We tried tapping into the social side through some of the younger team members but you really need to employ experts in that field to do it properly. All this will tie in with our new website which we'll be launching soon.

How does BOP make your business better?

AH: Before BOP, I saw us as doing a little bit of everything, but the danger is that you end up as just another landscaping business. So we're refocusing on what we're really good at, otherwise we could miss out on a fair bit of our key market, which is something that's easy to forget in the day-to-day running of the business.

We also had some bottlenecks in our sales funnel which I knew about, but didn't really have any processes in place to cope with that. So one thing we've implemented is a written Sales Process, which saves so much time and makes us a lot more efficient.

Before we even get to the quoting stage, we will talk with the prospect and gather information about their needs and size of the job, etc. If it's small, we will let them know up front that we have a minimum charge and what they may expect a smaller job to cost, which keeps everything honest and open and lets a potential customer know exactly what they could be up against.

A number of prospects would fall into this area. If we can qualify in the early stages of the sales funnel it allows us to question 'Do we want the job?' 'Does the prospect want to proceed knowing an estimated cost?' Setting up a Sales Process has made the sales journey from a prospect to close a lot more seamless and efficient.

Customer feedback is so important to us and we've adopted an E Text system. At the time of invoice, we'll text customers and request their feedback. This helps us learn a lot about what we're not doing right – just as much as confirming what we are doing right. The E Text system seems to return a higher rate of feedback.

Jamie was our facilitator. I found him very knowledgeable in his field, easy to talk to and he explained things clearly. I can't recommend Jamie and BOP highly enough.

NC: I take the view that I play in a particular sandpit. I'm more focused on where I am doing business these days, and that's the refrigerated transport industry. I'm more tailored as a business, specialised by not offering everything to everyone, and I feel I've got a pretty good name out there in the marketplace. More people are becoming aware of us, so the future is very exciting.

Follow the links for more information on Automated and Rapid Lawn and their extensive range of products and services.