Renae Smart is the Co-Founder and CEO of Civtec and a Owner Manger Programme 44 cohort alumni.

This Kiwi Business Story is based on a Podcast from Nov 27, 2020 and all figures quoted are from that time. You can enjoy the complete Podcast here.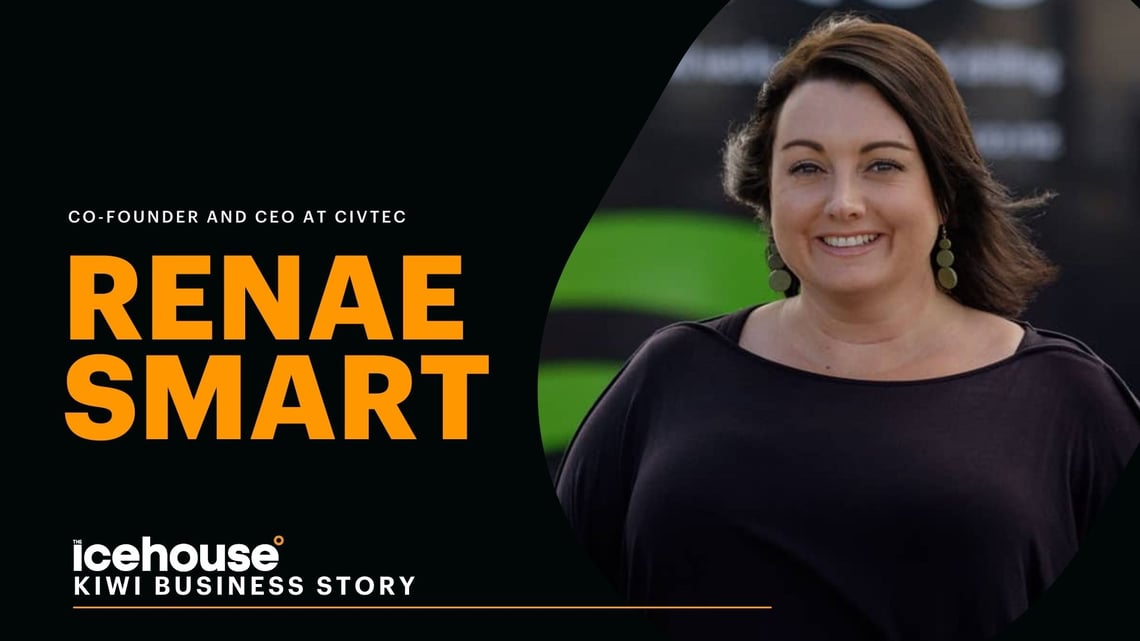 Tell us about yourself.

Civtec is a construction company. We build infrastructure. We specialize in underground utilities. So that's telecommunications, water, gas and power. We also do a little bit of light civil, and we have expanded our offering in the Taupo area. We're starting to do a bit more mobile, wireless and various other connectivity things. We started the company seven years ago, my husband Shane and I, and it was a one-man band situation.

Shane was going out to work on the tools, and we were going to have a very relaxed lifestyle. We now have just over 260 staff nationwide; we operate throughout the central North Island. We operate from Christchurch, South Island, and all over the show, depending on what the projects require. So, our purpose is improvement through connection. What we do is improve people's lives by making sure that they have access to the services they need to do that. Ultimately, we have a team of problem solvers. We see a problem a client has, and we help them figure it out.

Why did you guys decide to start your own business?
Interestingly, it was supposed to be a lifestyle choice. Shane, my husband, is a civil engineer, which is his profession, and he was working for another company in the Waikato. I was contracting, my background was in consulting and IT. We were both full on and the opportunity came up to connect a few fibre connections. The idea was that he could control his workload.

Why did you and Shane both do The Icehouse Owner Manager Programme??

We were banking with BNZ, our banker had invited Shane along to one of the game changer nights. He went along to that. Fair to say we were at a point where we were growing quickly. It wasn't that we were losing control of it, but it was taking over his life and started to become a little bit out of our depth.

I wasn't working in the business, as I was still contracting in my other roles. Shane, it was all on his shoulders, and he went along to the game changer that night. He spoke to someone from The Icehouse when he was there, and had a good night, learnt a few things and had some good chats. When he came home, he said this program sounds quite good. I think I might need to check it out. So, we did.

For him, that was the first real training education and professional development that he had done since very early on in his career. It felt good for him to go back and do that, so he completed OMP 41, which was in 2017 and he loved it, he had an absolute blast. He's a very different type of thinker to me. 2017 was also when I came into the business, and he would come home and tell me about his Icehouse experience and what he had been learning. I'm asking a million questions. He's going I don't know, I didn't ask that. He said, I think you should go as well, because you'll really get a different perspective on things. I ended up doing OMP 44 in 2018. The business had moved on, we were both working in the business at that point. We were having different challenges, and there were different opportunities. The business had grown quite a bit. We both got very different things out of The Icehouse.

Why did you both decide to do it at separate times?

A couple of reasons. It would have been difficult for us to do it together, from a cost perspective and from a timing perspective. We couldn't both step out of the business in our lives, we had small children still. It just didn't make sense for us from that perspective.

We're so in it together, that having the opportunity to step out and have your own cohort of people, share your own perspective, learn on your own terms and raise your own issues without having to think about the other person in that space, has been very valuable for us. We can't imagine having done it together, just that wouldn't have been right for us. I guess it's my personal preference. We got a lot out of it individually.

After you did or after you finished the programme, were there any significant changes that you implemented to the business?

Yep, lots. To give some context, when Shane came along to his OMP, we had about 50 employees'. We were operating in one region, and we were doing one type of work. He came back with some big lofty goals around customer diversification and what our structure needed to look like to be able to level up for that next stage of growth.

We bought in some external people, we have diversified our customer base, and we did quite a bit of work around who we wanted to work with. That has paid dividends over time, because that was a really important decision for us to make. For me, when I came a year later, those things were already engaged and implemented. A lot of what I did was an extension of the back of that. We knew that these few things had amped it up even within the year.

I guess the sorts of things I did, it wasn't these massive, big changes. But there was a lot more clarity around where we were going, how we were going to do it. Being able to make the decisions of where we wanted to take small risks and big risks, or no risk and those sorts of things started becoming a lot clearer for me.

How many were in your leadership team?

Last year, our leadership team grew to about nine staff. That had been through acquisition, as well as a few other things that had happened. A lot of these people have been with us from the early days, they have grown with the business. We have restructured this year, and we've reduced that team down to five, and just changed the structure a little bit. It was getting to a point where it was just getting a little bit big, and people couldn't have the clarity that they needed.

What learnings did you take out of the year 2020 ?

I'm probably even more passionate about connectivity now than I was at the beginning of the year. I've always been very passionate about our business, and even more so about the service we deliver, because of the impact on people in this changing world.