More than 130 Icehouse Alumni gathered at the Orakei Bay events centre in Auckland on Thursday 26 May 2022 for The Icehouse annual conference.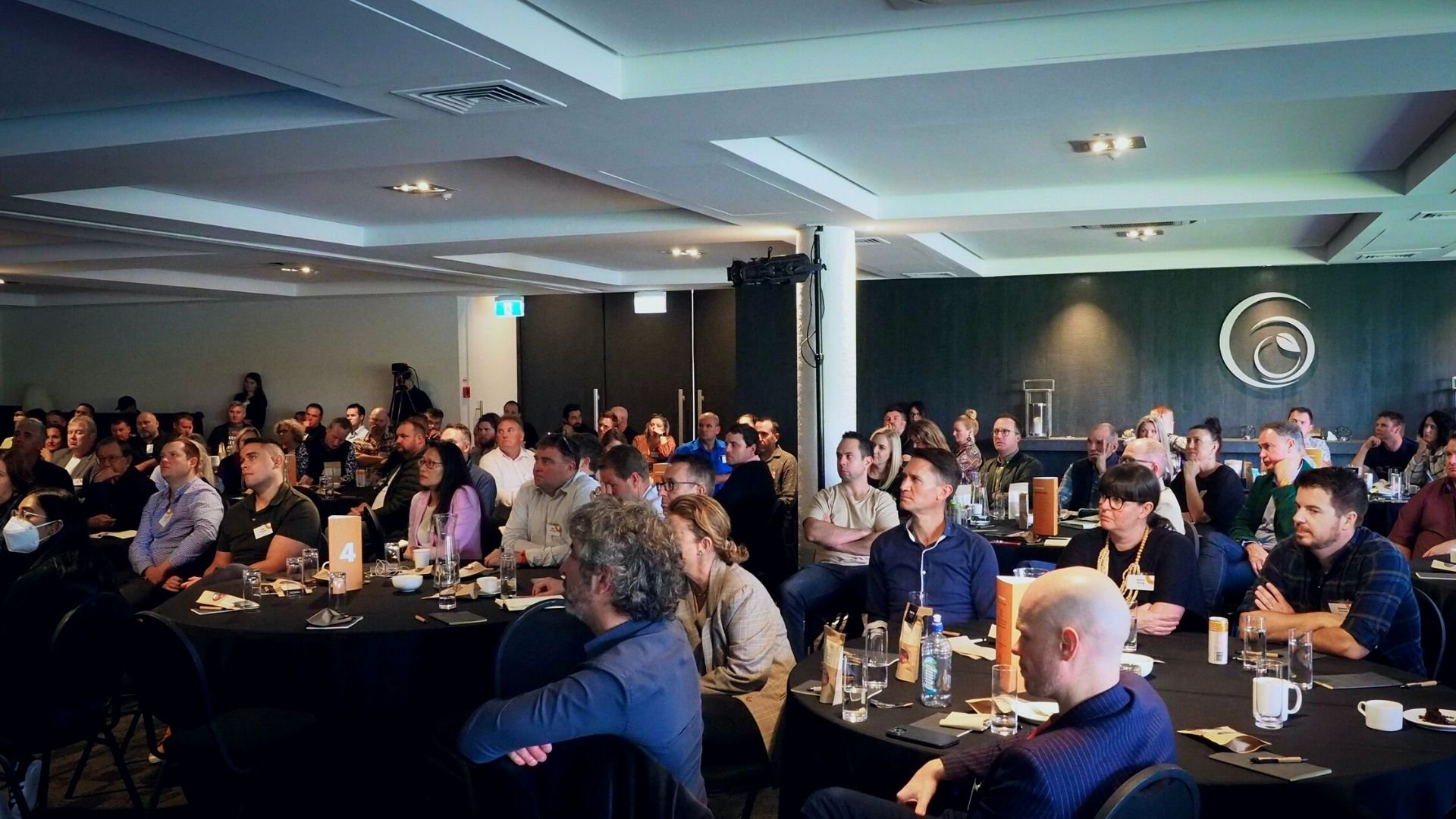 United by this year's theme of 'People, Passion and Purpose', attendees were treated to a day of future-thinking and reflection. And for the first time the Conference was streamed live to Hawke's Bay where alumni gathered at the Business Hub in Ahuriri.

Frances Valintine, CNZM and founder Tech Futures Lab, provided a thought-provoking insight into the morphing digital landscape, AI, the metaverse and NFTs – challenging the room to think about how to turn digital into a competitive advantage.

Under the intriguing question, 'Can you train a cow?', Craig Piggott, founder and CEO of Halter, wowed the room with his journey as a young founder, the business' rapid growth, and the importance of leaning into external support such as coaching and mentoring.

Leighton Roberts, one of the Founders, co-CEOs and Directors of the investment platform, Sharesies, spoke about 'Chasing remarkable', the Sharesies values, its sense of purpose, and the challenges involved in creating a platform which brings investment opportunities to all.

David Downs, Icehouse Chair and CEO of New Zealand Story, provided a deeply personal but highly entertaining pre-recorded presentation of his well-documented journey in surviving cancer.

Our final speaker was Dame Noeline Taurua, Head Coach of the Silver Ferns. Dame Noeline provided a rare insight into what it takes to lead one of the world's top sports teams – both in terms of the incredible behind-the-scenes work required to get a team tournament-ready and also how processes and systems impact key decisions.

In true Icehouse style, Owner Manager Programme directing team members Chris Woods and Deb Shepherd facilitated the final session asking the room to reflect on the insights and reminders they were taking from the day and select their two or three 'to-dos'.
Liz Wotherspoon, Chief Executive of Growth at The Icehouse, closed a truly fantastic and inspiring day with her reflections, thanks and future thoughts.
'After another crazy 12 months since we were together for Icehouse Conference 2021, it was so good to be able to be face-to-face and to create another truly Icehouse style experience. I love the energy that comes when we bring people together. It's when the magic happens.

'And we are so grateful for experiencing five awesome keynote speakers sharing their stories with a bit of provocation, plenty of energy and no shortage of inspiration. Themes I took away are what's preposterous today, may not be tomorrow; lean into discomfort and stay hyper-focused; be good social citizens; and we've got what we've got, we need to make our own luck.
'Running a business is really, really hard, particularly over the last couple of years, so being able to provide an opportunity to get a day of insight and inspiration from people doing remarkable things is what we love doing.'
In short, it was a fantastic and memorable day and plans are already in place for 2023! See you there!

For information on how The Icehouse programmes, workshops and coaching and advisory services can help your business, click here.

For more business ownership and leadership advice, check out more of our resources.

Icehouse Alumni? For exclusive content on Icehouse Central, register now.